Degree Programme in Logistics
Degree title:
Insinööri (AMK), Bachelor of Engineering
Objectives
After completing the studies you will be able to control and develop logistics processes that focuses on designing and controlling material needs. You will be familiar with the different types of transport, the principles of inventory control, procurement, logistics control and management. You will understand the importance of customer needs, quality and profitability in your work.

Your Expertise is the design, implementation and development of logistics processes. You will know how to consider requirements of safety and sustainability at the international environment, as well as the potential of digitalization and new technologies. Communication and interaction skills are highlighted in the operating network.
You can acquire logistics expertise in the areas of intelligent logistics, innovation, sourcing, warehousing or transportation.

Xamk's logistics training is working closely with companies, allowing business visits and visiting lecturers. Business collaboration makes it easier for you to find thesis assignments and internships.

After graduating from extensive technical-commercial education you can work in a variety of logistics managerial and expert positions. In the logistics sector you will be able to create a career in the core of international business.
Degree programme description
The scope of the training of logistics engineer is 240 credits.
The training consists of the studies on core competences and complementary competences. In addition, you will complement your professional skills with freely chosen studies.

The core competence Studies (165 CR) include engineers in mathematical and scientific studies and the basics of business economics. You get strong information on logistical thinking, including general work-life skills, leadership and language studies.

Complementary skills in Studies (80 CR) acquire specialised expertise in logistics management, business management and international transport.

Optional studies (15 CR) complement your logistical expertise in the field of transport and logistics, digitalisation or entrepreneurship and innovations.

The strength of education is a comprehensive supply of international logistics and logistical IT solutions studies. Your studies can be expanded by choosing studies in information technology, shipping and business logistics trainings. A key part of the training is the extensive language studies, the case-tasks and the group work, based partly on professional substances.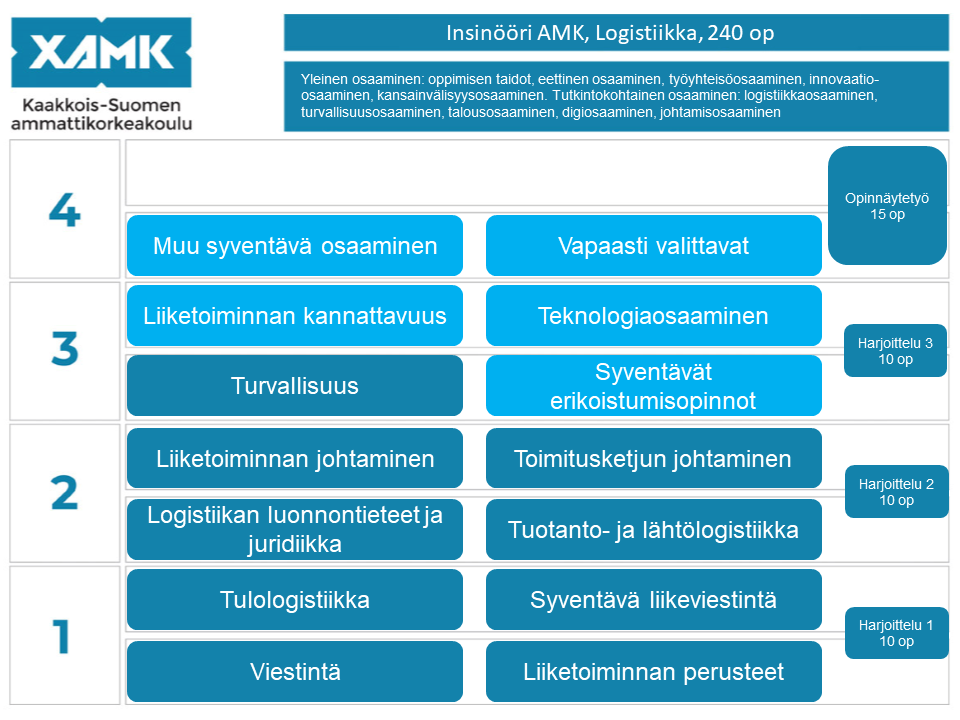 Implementation of studies and flexible learning tracks
Teaching is mainly at Xamk Kotka campus. Part of the studies will be online.
In the beginning of your studies you will create a personal study plan (HOPS). It will be based on your previous work experience and your current life situation. Your previous studies or otherwise archieved expertise may be taken into account by knowledge recognition (HOT).

Studies will utilize diverse learning methods and environments. In addition to traditional contact education your studies include independently completed learning tasks and exams, teamwork and online studies. Working life is involved throughout your studies.
Career opportunities
After completing your studies you can work on a wide range of managerial and expert positions that requires knowledge of business and logistics. Logistics engineers are typically employed as experts and managers in different areas of the supply chain.
The training provides a good capability for different tasks in planning, development, directing and management. You can also make a career in quality management, customer service, or administration tasks in companies, municipalities and government. Typical job titles are e.g.
• Transportation Planner
• Purchasing Manager
• Transport Manager
• Transport planner
• Logistics Manager
• Sales Manager
• Buyer
• Terminal Manager
• Production Planner
• Warehouse Manager
RDI and cooperation with world of work
Xamk is cooperating with local companies allowing for various projects, visits in companies and visiting lecturers. Business collaboration makes it easier to find thesis and internship sites.

Work-life projects will increase your expertise in knowledge, skills and attitude. In addition to exploring the economy cooperation will provide you with links to businesses and other stakeholders in the region during your studies.

For research, development and innovation projects (RDI), you have the opportunity to collaborate with local stakeholders, students and university staff.