Degree Programme in Cyber Security
Degree title:
Insinööri (AMK), Bachelor of Engineering
Objectives
The core of the engineer education in the cybersecurity is in the skills of the functional cybersecurity, in the form of action learning. You will have skills for preventing, detecting, responding, and in case of attack, mitigating the consequences. New kinds of skills and competences are needed in the working life of the future. The objective of the education is to produce modern high-level competences in the area of cybersecurity.

Disruptions in the operations of our internet-based society may be fatal. You also become familiar with cybersecurity frameworks, standards, security management and can classify the vulnerabilities and the principles of protection. After the studies, students can apply security solutions for discovering security threats and for protecting against them. You are also able to manage countermeasures against denial-of-service attacks.
Degree programme description
The extent of the studies is 240 ects.
The curriculum consists of programme-specific core studies 180 ects, supplementary studies 60 ects. Internship is 30 ects and of Bachelor's thesis is 15 ects.

Studies concentrating especially in cybersecurity are 60 ects.
• Applied Cybersecurity
• Advanced Cybersecurity
• Secure Datacenter Technology
• Advanced Secure Networking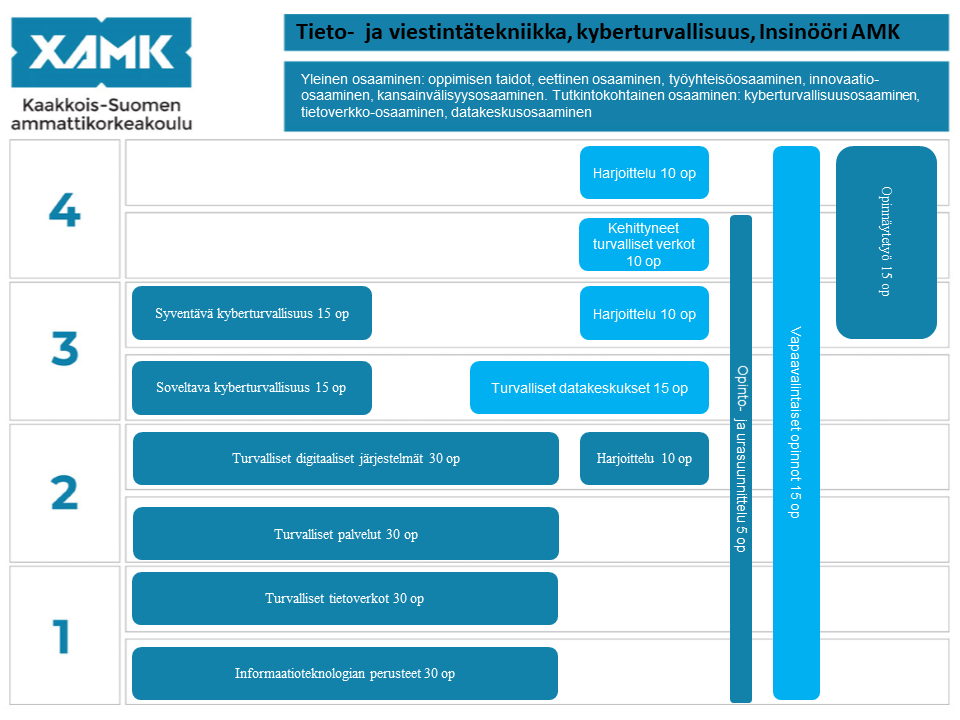 Implementation of studies and flexible learning tracks
Scheduled track

You participate into scheduled contact lessons. Your studies are progressing in the pace of the group schedule and self-paced learning activities. Studies of cybersecurity are mostly scheduled contact lessons on the Kotka campus.

Fast track

You study the topics by yourself and execute required learning activities. You can accelerate your studies having online studies from summer portal or for example having MOOC-studies from other universities. In this case contact your responsible teacher in the beginning of the studies to agree on the required activities.

Integrated track

You study the topics by yourself and execute required learning activities by carrying out them in addition to your work. You can also demonstrate the required skills via demonstration of prior learning of the topic. In this case contact your responsible teacher in the beginning of the studies to agree on the required activities and demonstration of your skills.
Career opportunities
After you have completed the Bachelor's Degree Programme in Cybersecurity you are able to work for cybersecurity or information security companies or IT departments of companies, for Internet service providers, network operators, datacenters or military.

• Cybersecurity analyst
• Information Security Manager
• Cybersecurity expert
• Penetration Tester
• IT Manager
• Security Tester
• Ethical hacker
• Security Consultant
• IT Engineer
• System Engineer
• Communication Designer
• Networking Expert
• Project manager
• System expert
RDI and cooperation with world of work
Education in cybersecurity participates eagerly in RDI activities. CyberELITE project focuses on business opportunities and cybersecurity threats due to the digitalization of manufacturing industry. Starting point for the project is EU-level preparation for Cybersecurity act, which aims to improve and guarantee the cybersecurity and reliability of SME companies. Another starting point are cybersecurity testing needs reported by companies. The strategies of Councils of South-West and South-East Finland emphasize digitalization, renewal of manufacturing industry and cybersecurity as main goals.

The project will develop regional innovation platforms, which consist of IoT cybersecurity laboratory activities, processes, and connections to external actors. The focus for the innovation platform is manufacturing industry and secure IoT devices as a part of service production. The goal is to create ecosystem able to support IoT business development especially for SME sector.

Virtual laboratory hosted on Kotka CyberLab datacenter is used in CyberELITE as important remote laboratory for IoT devices. The project has given working or internship place so far for about ten students of cybersecurity.
Learning environments
For cybersecurity education, XAMK Virtual Laboratory is so far the most important result for South-Eastern Finland University of Applied Sciences. The platform of the service is located at the CyberLab datacenter in Kotka.

CyberLab is the datacenter of the Degree Programme in Cybersecurity of the South-Eastern Finland University of Applied Sciences. A few years ago, a modern CyberLab datacenter was built at South-Eastern University of Applied Sciences for training and project purposes. The datacenter works as an important part of datacenter technology education. The datacenter is highly used by XAMK Virtual Laboratory. XAMK Virtual Laboratory is a cloud service, which only requires users to have a modern web browser with support for HTML5.

VirtualLab is a virtual laboratory service running on the CyberLab datacenter. VirtualLab is now widely used in cybersecurity- and information networks education, as well as in RDI activities (Research, Development, Innovation). It replaces almost all laboratory work done with physical devices. For example, before a three-person student group had only a few devices to use, but now one student can have a multiple complete virtual "worlds" each including over 20 virtual devices. These are called "laboratories" or "scenarios". VirtualLab is in heavy use: at the best, the system has had simultaneously nearly 100 users, 250 laboratories, about 3200 active virtual machines and approximately 4900 virtual cables.

The VirtuaLab can be used from XAMK's own computers as well as from any device that has a modern HTML5 capable web browser. For example, a student logs into the system from https://virtual.ictlab.fi. Then they can reserve up to ten simultaneous scenarios. Each scenario can contain multiple virtual machines, and all virtual machines come with all the cables required for connecting them. Now the student selects which scenario he/she wants to interact with. After that, they is greeted with a network topology image containing all the devices included in the scenario. The student can select any device from the topology image by clicking it, and then he/she is taken to a screen that resembles a remote desktop view of the virtual machine.

The VirtualLab system enables the construction of complex virtualized environments that include multiple virtual machines, each with their own operating system. These machines can be servers, workstations, switches, routers, firewalls, and so on. All of these machines can be interacted with and external software can be installed to them. One can create any type of scenario they want, whether it is an offensive- or defensive cybersecurity laboratory or a practice laboratory for datacenter networking.