Degree Programme in Nursing
Degree title:
sairaanhoitaja (AMK), Bachelor of Health Care
Degree programme description
The curriculum of the Degree Programme in Nursing is based on EU directives and national guidelines regarding the competence of nurses responsible for general care (180 ECTS credits), including common competence areas of the University of Applied Sciences. The competence areas are included in modules and courses.

Common competence areas of the University of Applied Sciences include the following:
• learning competence
• ethical competence
• working community competence
• innovation competence
• internationality competence.

Competence areas specific to the Degree Programme in Nursing include the following:
• professionalism and ethics
• patient and client centered care
• interaction and multiprofessional team work
• health promotion
• management
• information management
• patient education and support of selfcare
• clinical nursing practice
• evidence-based practice, utilization of research evidence and decision making
• entrepreneurship and development
• quality control
• service system in social and health care
• patient safety.

Various situations of clinical nursing and patient education are practiced during the studies. Modern simulation and practical learning environments, with modern equipment, enable the creation of realistic learning environments.
One third of the studies are implemented as clinical practice in various nursing environments. Clinical practice is carried out in various units of primary health care, specialized health care and community sector.

The degree includes core competence and complementary competence studies. Core competence includes knowledge, skills and qualifications that registered nurses must master at work and that form the basis for continuous learning. Complementary competence expands and deepends the core competence.


Degree Programme in Nursing includes the following modules:
Core competence:
• Basics of clinical nursing
• Health promotion
• Clinical nursing
• Clinical practice
• Language and communication studies
• Evidence-based nursing
• Bachelor's thesis

The complementary competence includes the development of professionalism, clinical practice and optional studies. You can focus on areas such as
• acute care nursing
• outpatient clinical nursing
• eHealth
• mental health nursing or
• multidisciplinary competence.

In optional studies you can choose from various studies including innovation studies, entrepreneurship, data management and Russian studies.

Language and communication studies will help to communicate both orally and in writing in the nursing profession. You will be able to participate in international communication and interaction in Finnish or Swedish, and in English.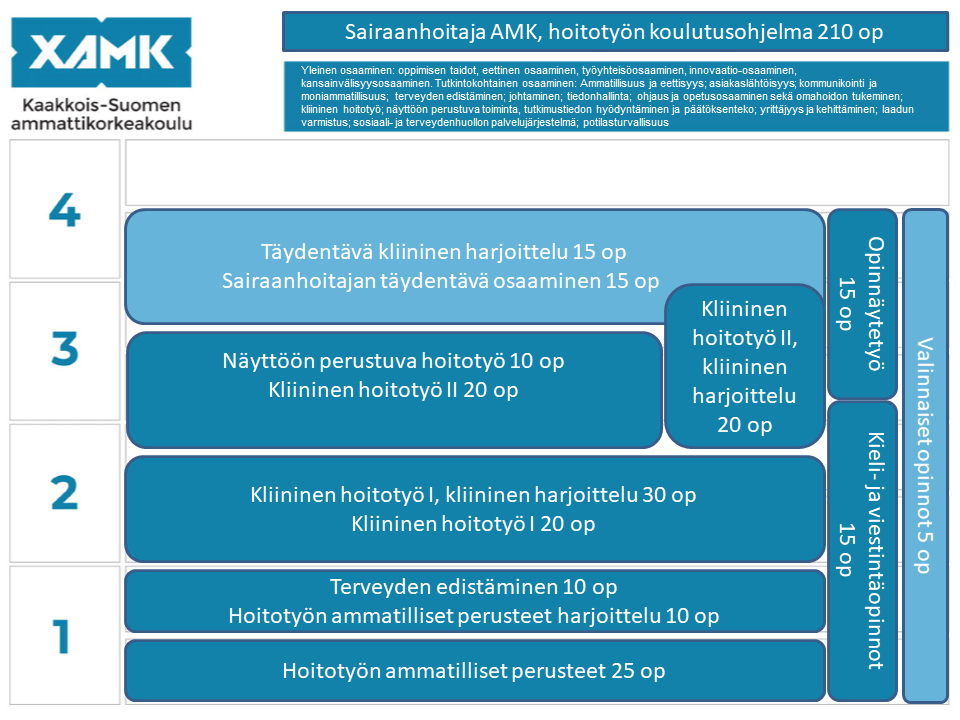 Xamk - the students' university of applied sciences
T
Objectives
As a registered nurse, you have a strong competence in clinical nursing practice, and readiness to plan, implement, assess and develop the nursing of patients of varying ages. As a specialist in nursing, you educate, support, treat and rehabilitate patients with different health problems in cooperation with a multiprofessional team and the patient's next of kin. As a registered nurse you will be able to explain and justify your actions.

The importance of social and health care legislation, professional ethics and supporting and increasing patients' and clients' capacity, health and well-being is emphasized in patient and client centered care.
RDI and cooperation with world of work
Almost half of the studies is conducted in cooperation with the world of work. Clinical practice in different nursing environments strengthens your working skills and participation in multiprofessional networks. The Bachelor's thesis is related to local development projects or other work-related development tasks.

Cooperation between teaching and RDI (research, development and innovation) provides you with experience in development projects connected to local, national or European networks. Cooperation between RDI and teaching gives you opportunities to participate in local, national and international development projects. In RDI projects you will participate in multidisciplinary teamwork with local service providers, and university staff and students.
Implementation of studies and flexible learning tracks
Your personal study and career plans, prepared at the beginning of your studies, are built on the objectives of the degree programme and on the knowledge and skills previously acquired, in order to support your decisions in career planning, course options, practical training, thesis and international studies.

It is essential that the previously acquired skills meet the aims of the degree programme and the particular course.

In the scheduled track, you participate in the classroom instruction and guidance. Your studying includes classroom and online studying, as well as and simulations in various environments.

How to speed up the studies?
You can speed up your studies within the limits of the prior study requirement of the courses. A careful planning is suggested when speeding up the studies, since learning and achieving competences requires time.
Speeding up your studies requires excellent time management skills and readiness for independent studying.

If you have prior competence related to the course, such as studies or work experience on the subject, you can have the course accredited either partially or in full.

How can studies and working be connected?

If you work in a health care environment, organization or in a project run by a higher education institution, you can carry out courses at your own work place / as part of your project either partially or in full.

When you have completed 140 ECTS credits, you are entitled to work as substitute nurse. This working experience can be accredited to your studies as clinical practice.
Your wellbeing is very important to all of us. During your studies, you have the support of the entire Xamk staff. All Xamk campuses have a student affairs office and student health care.

BYOD – Bring Your Own Device

New students arriving in Xamk are subject to our BYOD policy. The BYOD policy requires that students bring their own devices, such as laptops, to campus.
Career opportunities
The employment rate of registered nurses is high .Registered nurses are employed by social and health care organizations, associations or the private sector. Your workplace may be in a hospital inpatient ward, policlinic, surgical ward, home care, various rehabilitation and nursing homes, or health care clinics. RN can also work in development tasks or as an entrepreneur. There are also substantial international employment opportunities.

Registered nurses are licensed health care professionals. The education meets the criteria of nursing education given by the European Council, and contains the professional competence of a nurse responsible for general care.
Only a graduated, licensed professional can work as a registered nurse. After completing your studies, you will apply for the license from the National Supervisory Authority for Welfare and Health.
Learning environments
In nursing studies, a lot of learning is gained using simulations and online studies. There are modern simulation environments on all Xamk campuses. They include various hospital environments, a functional ability lab and domestic environments. Clinical practice included in the studies is carried out in different health care environments.